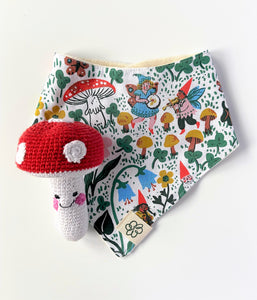 Baby gift set includes
* Bandana Bib

What sets our bibs apart from other bibs are high quality material that we use. Our were chosen to be one of the top baby gifts of 2018 by the Seattle Times. Our bandana bibs are made with 100% premium cotton fabric and lined with organic bamboo cotton which makes them soft, comfy and absorbent.
* Mushroom Crocheted Rattle

Red Mushroom — This happy mushroom baby has a bright red top and white stem with a happy face. Hand-stitched with soft cotton yarn, it is lightweight and oh so grabbable for little hands. The rattle inside has a very gentle sound when shaken. Perfect for hours of pretend play, this mushroom toy is bound to be your child's favorite first vegetable. Pebble— "Putting smiles on faces worldwide!