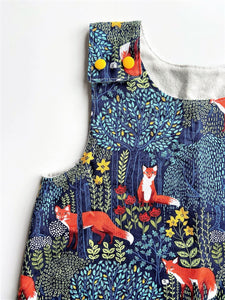 Fox in the Wild Romper is fully-lined. Full Length legs. Perfect for boys and girls, newborn up to 3 years old.
The harem style ensures a comfortable fit and the inseam opening with poppers allows fast change of diapers (cloth diapers too!!).
You have 2 options when purchasing this romper:
1. Flannel-lined, perfect for winter.
2. Solid cotton-lined, making it reversible.
Size measurements:
newborn-birth, 22" (56cm) height
3 months, 25" (64cm) height
6-12 months, 28" (72cm) height
12 months, 32" (80cm) height
18 months, 34" (86cm) height
2 years, 36" (92cm) height
3 years, 38 1/2" (98cm) height